The ICON•S Committee on New Directions in Scholarship invites you to join us in conversation in the
New Scholarship Showcase, a series of monthly virtual events dedicated to new books in public law.
This event will feature a discussion on Federalism and Decentralization in the Contemporary Middle East and North Africa (Cambridge University Press, 2023) edited by Prof. Aslı Ü. Bâli (Yale University, USA ) and Prof. Omar M. Dajani (University of the Pacific, USA).
The authors will offer an overview of the book, followed by comments from Prof. Vicki C. Jackson (Harvard University, USA ) and Prof. Madhav Khosla (Columbia University, USA).
The event will be chaired by Dr. Berihun Gebeye (University College London, UK).
Date: 19 May 2023

Time: 15:00-16:30 UTC | 16.00-17.30 London | 13.00-14.30 New York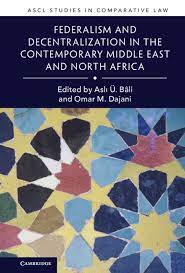 This volume, the first of its kind in the English language, examines the law and politics of federalism and decentralization in the Middle East and North Africa. Comprised of eleven case studies examining the experience across the region, together with essays by leading scholars providing comparative and theoretical perspectives and a synthetic conclusion by the co-editors, the volume offers a textured portrait of the dilemmas of decentralization during a period of sweeping transition in the region. The collection addresses an important gap in the comparative decentralization literature, which has largely neglected the MENA region. Both retrospective and forward-looking in orientation, the book is a valuable resource not only for scholars of comparative politics, constitutional design, and Middle East studies, but also for policy makers evaluating the feasibility and efficacy of decentralization as a vehicle for improving governance and responding to identity conflict in any part of the world.